Growing up, history and social studies courses peaked my interest. While each year we dived deeper into European "triumphs," Black History Month was the one month where I actually felt like I could relate. The heroic work of Harriet Tubman, Rosa Parks, Sojourner Truth, Dr. Martin Luther King, Jr., Malcolm X and countless others inspired me, knowing that they'd sacrificed their own lives for the betterment of the African-American community.

But it often crossed my mind, why as a Black Latina, I didn't hear about Black Latino involvement in movements both stateside and abroad. The same can be said about Hispanic Heritage Month. It wasn't until I signed up for several of my university's African-American Studies courses that a new world of information opened up. It was here that I'd learned about historic uprisings such as Nat Turner's Rebellion and the Stono Rebellion, which was the largest slave revolt to occur in the 13 colonies. We discussed blackness on a global scale from the Haitian Revolution, and how Haiti became the first black republic, as well as the robust and rich African-American expatriate community in Paris. It's through my studies in the City of Light and learning about the likes of singer, dancer and actress Josephine Baker; author, poet and scholar Countee Cullen, and Notes of Native Son author James Baldwin that I became comfortable in my own identity as an Afro-Latina.
As the daughter of Black Latinos who hail from Honduras, their lives and my own are a testament to the fact that blackness is global. It's not reserved to one locale, or group of people; hence, that globalness should be reflected in observances and celebrations.
I've flipped through one too many magazines or online slideshows, and tuned into numerous specials in February, only to see the exclusion of Afro-Descendants from outside of the U.S. In the case of Afro-Latinos, we're often excluded from the history and conversations that take place this month and during Hispanic Heritage Month in the fall. Latino-focused outlets may choose to use the month to highlight the contributions of Afro-Latinos and discuss our intersectional identities, but outside of the 28-day time span, we're virtually non-existent or represented — and not just by anyone, but our own people. It's inspired many, such as myself, to celebrate and push our narratives on our own platforms — through social media and our personal websites.
Another way to have our voice heard is through campaigns. Social media manager Juliana Pache took things into her own hands, creating the #BlackLatinxHistory hashtag. The tag, which has generated a lot of engagement, was created to address the lack of Afro-Latinx, or Black Latinx, history during the month. (Latinx is a gender-neutral term that's more inclusive of identities outside of the man-woman binary.) It sparked so much conversation, social media behemoth Twitter turned it into one of its Twitter Moments. Scroll through and you'll see images and facts about the first Afro-Colombian Congresswoman Zulia Mena, Afro-Puerto Rican and Haitian artist Jean-Michel Basquiat, and Afro-Puerto Rican historian Arturo Alfonso Schomburg, among others.
Below: The one and only Jean-Michel Basquiat.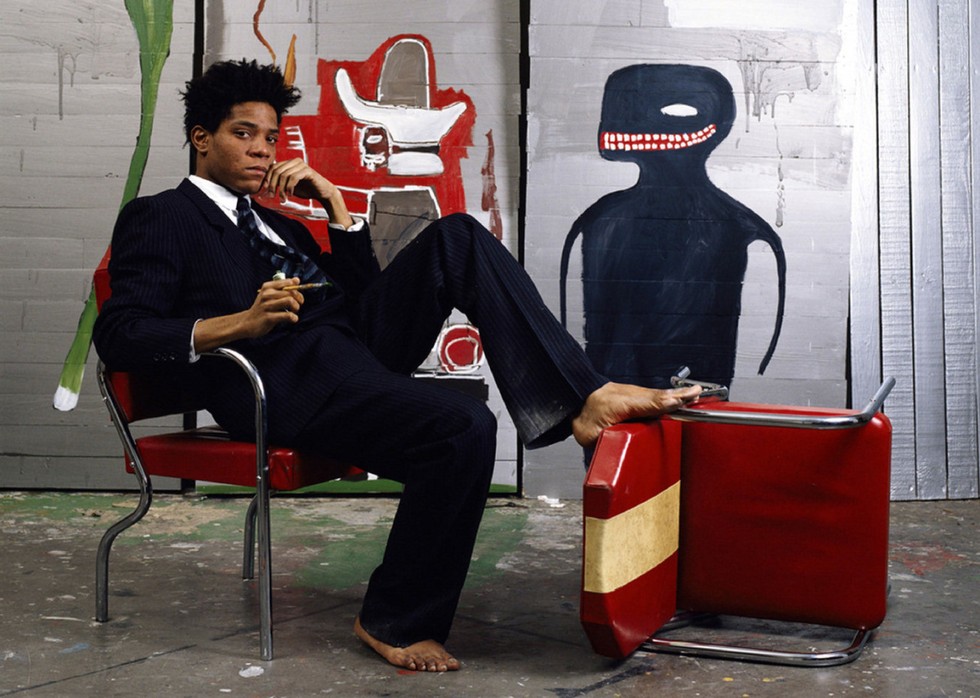 Brooklyn Museum
I had a conversation with Dr. Marta Moreno Vega, president and founder of the Caribbean Cultural Center African Diaspora Institute (CCCADI), in which she discusses our interconnectedness. She then goes on to describe a letter she discovered between Schomburg and Afro-Cuban poet, journalist and activist Nicolas Guillen, introducing African-American poet and activist Langston Hughes. It's a true testament to a global connection that spans decades.
Guillen interviewed Hughes, which kickstarted a lifelong friendship. The Cuban-born writer faced many of the same issues. Not only did Guillen tackle issues in Cuba through his work, but what African Americans faced in the U.S. It inspired pieces like "Brindis," a poem, dedicated to Josephine Baker, that takes a critical look at the country's democracy, and "Elegy to Emmett Till," which dissects the cruelty of murdering a 14-year-old boy. In the latter poem, he writes:
ahora un niño frágil
pequeña flor de tus riberas
no raíz todavía de tus árboles
no tronco de tus bosques,
no piedra de tu lecho
no caimán de tus aguas:
un niño apenas,
un niño muerto, asesinado y solo
negro.

now a fragile child
small flower of your banks
not yet a root of your trees
not yet a trunk in your forests
not a stone in your bed
not an alligator in your waters:
barely a child
a dead child, killed and only
Black.

Although raised miles, and countries, apart both Guillen and Hughes could relate. While unique in their very own way, their blackness connected them. Yes, many of us may speak a different language. But look a little deeper and you'll see our customs and celebrations, dances, food and garb all, ultimately, connect us.
"There's nothing prouder to see yourself in your beauty and in your globalness," Moreno-Vega told me. Whether you identity as African American, Afro-Latinx, Afro-Descenadant, or via your nationality, I couldn't agree more. Embrace your globalness.